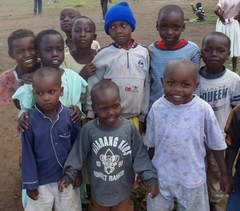 THE INSPIRATION
The Maasai are one of the few remaining tribes in Africa who continue to live by their culture and tradition. They continue to dress in their traditional clothes and live in the traditional mud and cow dung Manyatta. They are a proud and peaceful tribe who think only of their animals and who try to be happy no matter what difficulties they face.

We don't want to change their way of life, we simply want to ease the hardship they face due to drought, the killer disease AIDS which is spreading rapidly amongst them, lack of basic education, lack of clean water and the lack of a basic healthcare system.
---
THE PEOPLE INVOLVED
The Light of Maasai was founded by a group of four people, three Maasai
​and one "musungu" (Irish NGO worker Elaine Bannon).


Joseph Nkanoni Lempira Jonathon Kipanu Ole Nampa Elijah Kilempu Joseph
These three Maasai men have been educated to secondary school level and some have had the opportunity to travel to countries in Europe. This gives them a unique insight into the problems to be faced in a changing world by the Maasai who predominately remain un-educated. They recognized the need to improve the standard of living of the Maasai people and the enormous difference being educated can make to a person's life. Before the arrival of Elaine Bannon, they had been attempting to provide employment for Maasai warriors and ladies, some of whom were educated and some un-educated. Elijah and Jonathon had moved to Mombasa and formed a group of Maasai who performed traditional dance in the tourist hotels along the coast. While selling their jewellery and dancing for the visitors they also tried to teach those visiting about the life of a Maasai. Each time they returned to Rombo for a visit to their family they were struck by how little had changed since they were in school and how the tradition of not educating girls was still continuing. They also saw that there were no active groups in Rombo who were attempting to show the people that a better way of life is available. These three men have the language and knowledge of the area while Elaine focuses on trying to raise funds to make the impossible possible. Joseph had lived in Rombo all his life and had been working as a volunteer in the Catholic Mission. He was involved in HIV/AIDS awareness programmes but knew that only the tip of the iceberg was being reached.
Together these four people have a vision where the Maasai will continue with their traditions and culture, but with the help of willing sponsors, suffer less hardship. Our greatest wish is to see a day when no woman will have to walk 20 or 30 km for water every day and where girls can start school at the age of 4 or 5 years happy, in the knowledge that they will not be removed from school at the age of 13 or 14 years to be circumcised and married. We wish that children won't have to walk more than 3 or 4 km to school and will be educated to a level that will allow them to achieve employment later in life.

About Elaine Bannon
Elaine Bannon is originally from Dublin, Ireland. She left her job and comfortable lifestyle to live and work in Rombo, Kenya as an unpaid NGO worker (non governmental organisation) in 2002.
Elaine was already very aware of the plight of the African people but only when she first visited Kenya and witnessed the extreme poverty for herself did she decide to try and help by joining the Maasai community. Four years later by working with the local Maasai men and women, Elaine has adapted to her role as teacher, project manager, builder and doctor. Elaine has been heavily involved in fundraising and subsequently building small schools, medical clinics and water wells.
There are 2 major achievements in Elaine's life:
In 2005 Elaine became a Paul Harris Fellow*. This recognition for the work she has done in Rombo has benefited all those involved in the Light of Maasai project as it has raised awareness and encouraged Rotarians to become involved.
In 2010 Elaine was awarded with the Order of the Grand Warrior. This is the highest honour the President of Kenya can give for humanitarian endeavour and the first non-kenyan to be given this honour.
​*An award given by the Rotary Foundation (
www.rotary.org
) in appreciation of tangible and significant assistance given for the furtherance of better understanding and friendly relations among peoples of the world. To find out more about what the Rotary Foundation has contributed to the Light of Maasai see our 'How Others Have Helped' section